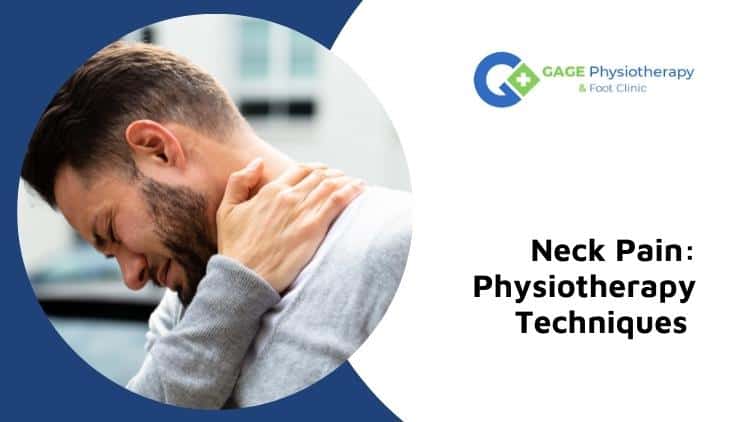 Are you suffering from neck pain? If yes, then you should try out these 5 effective physiotherapy techniques for your neck pain.
Neck pain is very common nowadays. In fact, around 80% of adults experience some form of neck pain at least once during their lifetime. The main cause of neck pain is muscle strain or injury. This type of pain usually occurs after performing certain activities such as lifting heavy objects, working long hours, playing sports, etc.
There are several ways to treat neck pain. Nevertheless, with the help of a nearby physiotherapist in Hamilton Mountain, you can get your neck discomfort under control at last. With various kinds of physiotherapy techniques available for patients with neck pain, it's important to understand which therapies are most suitable depending on your specific condition. Let's first look at common reasons for neck pain.
Common Sources Of Neck Pain Include:
Muscle weakness

Poor blood flow to neck muscles

Muscle tightness

Issues resulting in mechanical neck pain

Sports injuries

Degenerative conditions

Spinal cord conditions such as cervical radiculopathy

Degenerative disc causing mechanical pain

Soft tissue structure problems

Nerve pain

Bone spurs

Muscle spasms

Abnormal neck structures

Inflamed nerve root

Problem with connective tissue structure

Sore joint

Muscle tension

Muscle tone problems

Excessive movement

Normal aging process

Abnormalities in the bone structure

Spinal instability between vertebrae

Severe injury
If you have been suffering from neck pain and don't know where to start, below we've outlined five common methods to help you get the most out of a physical therapy session and return to normal activities as quickly as possible.
1. To Start With, Ask Questions
Before you arrive for your treatment session, there are a few questions you should ask your physiotherapist to help you receive the best out of your session. Inquire about the therapy plan you'll be getting, as well as concerning how many times you'll be expected to carry on with the treatments.
Additionally, make sure to ask about any kind of side effects that can happen from the various treatments, in addition to what to do if there are any types of complications.
By asking these questions in advance, you can steer clear of any kind of misconceptions or surprises in the future as well as ensure that you're receiving the best treatment available for your situation.
It's also a good plan to know what to expect throughout your treatment. If you're receiving friction therapy, for example, you should understand the amount of stress that your physiotherapist is most likely to utilize. Generally speaking, you should feel some extra pressure throughout your therapy; however, it shouldn't be excruciatingly painful.
2. Exercise Program With a Physiotherapist
There are several kinds of physiotherapy sessions for neck discomfort, and among the most effective are stretch workouts. This type of physiotherapy program helps to build up your muscle mass while also enhancing your overall flexibility and also general stance.
While it's not a treatment that can be done simply once, stretching workouts are created to be a lasting remedy to your neck pain. You can execute these workouts at home, or your physiotherapist can recommend certain workouts that you can do while you are at your job or performing daily activities.
If you're battling neck discomfort as a result of poor posture, extending exercises can help fix your posture while additionally improving your overall health and range of motion. By executing these exercises regularly, you can help prevent future rounds of neck discomfort and also improve your quality of living.
3. Heat and Ice Treatment
While ice and heating treatment can be valuable for a wide range of injuries, they are especially useful for dealing with neck discomfort. Depending upon the cause of your discomfort, your physiotherapist might recommend that you use a warm or cold compress. As an example, if your pain is caused by muscular tissue rigidity or swelling, making use of an ice pack may be strongly recommended.
If your discomfort is caused by a squeezed nerve, utilizing a heat pack might be recommended, given that heat energy can serve to help to relax your muscular tissues as well as lower any kind of swelling in the area. Some patients with persistent discomfort find that rotating in between heat and cold therapy at various intervals helps to keep their discomfort from escalating. It is vital to consult with your physiotherapist regarding the benefits of each sort of treatment and when to utilize each one most successfully.
4. Ultrasounds or TENS Devices
If you've been experiencing chronic pain for an extended period of time, your physiotherapist might recommend that you try TENS therapy. This kind of treatment makes use of electrodes to send low-voltage electrical stimulation through your muscles, which can help to loosen them up. Depending upon your specific pain and where it is located, your physiotherapist might place the electrode pads on your back or your neck.
While TENS therapies can be very helpful, they're typically used as a last option if other kinds of therapy have failed to deliver any type of pain relief. By utilizing these treatments over a long-term period of time, you can help to avoid future discomfort in your neck and improve your general health and wellness and health.
5. Acupuncture
As you're handling neck discomfort, acupuncture can help in reducing stress in your muscle mass and boost your blood flow. While acupuncture is more generally utilized for recurring discomfort, it can also be made use of for more short-lived pain.
Acupuncture therapies can be effective for all kinds of pain. Before trying these therapies, your physiotherapist must identify what type of neck discomfort you have, to ensure that you can find the most suitable treatment together.
FAQs on Neck Pain Problems
What Are The Symptoms Of Neck Problems?
Some of the more common symptoms of neck problems are neck pain, headaches, pain spreading into the upper back or down the arms, neck stiffness and reduced range of motion, muscle weakness in the shoulder, arm, or hand sensory changes (numbness, prickling, or tingling) in the forearm, hand, or fingers.
How Is A Neck Problem Diagnosed?
The diagnosis of neck problems begins with a thorough history of your condition.
How Is The Customized Treatment Plan Developed?
Once your examination is complete, the physiotherapists will have arranged treatment options in the form of a custom plan that will help speed your recovery, so that you can return to your active lifestyle as soon as possible.
What Are The Tests Usually Performed?
Measurement of your arm and hand strength, checking your reflexes, and determining whether you have numbness in your arms, hands, or fingers.
What Is A Disc?
The disc is a specialized connective tissue structure that separates the two vertebral bodies of the spinal segment.
What Is An Intervertebral Disc?
An intervertebral disc is made of connective tissue.
What Are Ligaments?
Ligaments are strong connective tissues that attach bones to other bones.
What Is The Difference Between A Spinal Segment And Spinal Column?
Each spinal segment includes two vertebrae separated by an intervertebral disc, the nerves that leave the spinal cord at that level, and the small facet joints (described later) that link each level of the spinal column.
What Is The Cervical Spine?
The cervical spine is formed by the first seven vertebrae.
Conclusion
Ongoing neck pain can feel debilitating, but the good news is there are various kinds of physical rehabilitation therapies readily available that can relieve your pain. By speaking with a physiotherapist and explaining your pain, they can endorse a treatment plan that's right for your condition.
Depending on the type of pain that you're dealing with, your physiotherapist can recommend treatments such as stretching exercises, heat energy, ice therapy, acupuncture, TENS therapies, and even more. With the help of a physiotherapist, you can ultimately put an end to your neck discomfort once and for all.
Contact us today for long-lasting pain relief. Now scheduling new clients!