"We Help People Become More Active And Mobile, Without Painkillers… So You Can Do What You Enjoy Most!"
Physiotherapy Hamilton Mountain
Gage Physiotherapy and Foot Clinic in Hamilton Mountain is a multi-disciplinary physiotherapy clinic that strives to provide the care you deserve. We believe that in order to take care of ourselves a holistic approach to treatment is required. This is done by looking at the whole person and assessing the biology, psychological and social elements that surround a person. Each element creates a unique dimension to the individual and affects how we function and respond to pain.
Gage Physiotherapy and Foot Clinic in Hamilton, ON believes that taking care of ourselves requires a holistic approach to treatment. At the clinic we provide pelvic floor physiotherapy, shockwave therapy, custom orthotics, registered massage therapy and chiropractic care. Being a multidisciplinary clinic allows us to address each individual's unique needs and allows us to provide individualized treatment plans.
Click play to hear from Valerie van Woudenberg about how GAGE Physiotherapy & Foot Clinic can help you…
Gage Physiotherapy and Foot Clinic strives to provide the best customer care by providing excellent customer service. We provide direct billing to extended health insurance and accept individuals who have been in a motor vehicle accident and work related injuries (WSIB).
---
Want
Help Deciding
if Physiotherapy is Right For You?
So that we can meet your specific needs and help you achieve your specific goals, please fill out this 35 second form and tell us exactly how you want us to help you. the more we know, the better we can help you get relief, get a plan, and get back to the things you love. Just click below to continue.
*Note: there is no treatment given at one of our discovery visits sessions. It's for you to ask us more questions and for us to confirm whether or not we think we can help you.
---
About

GAGE

Physiotherapy & Foot Clinic in Hamilton Mountain, Ontario
At Gage Physiotherapy and Foot Clinic we love to help people in their 40's, 50's, 60's and above, get back to living the life they deserve. Which means a life free from painkillers, where you don't have to worry about bothering the doctor, and can do and enjoy all of the things you love, without the fear of pain holding you back.
About

Valerie van Woudenberg
Gage Physiotherapy and Foot Clinic was founded by Valerie van Woudenberg who is a trusted healthcare professional working with people 40-60+ on a daily basis. She reaches out to the local community, support groups and schools to advise and educate on body awareness, exercise and caring for your family by caring for yourself.
What
Other People Just Like You
Are Saying About Our Physiotherapists in Hamilton Mountain
Our
Services
in Hamilton Mountain
Physiotherapy
We specialize in personalized physiotherapy treatment plans to help you overcome pain and heal faster. Our non-invasive techniques are designed to improve your mobility, reduce stress, and enhance your overall quality of life. Gage Physiotherapy and Foot Clinic is committed to helping you live a healthier, pain-free life.
Massage Therapy
Experience the healing power of touch with Massage Therapy. Our certified massage therapists use a variety of techniques to relieve stress, reduce muscle tension, and promote overall wellness. It's not just a massage, it's a pathway to a healthier life.
Shockwave Therapy
Accelerate your recovery with Shockwave Therapy. This non-invasive treatment uses acoustic waves to stimulate deep tissue repair, effectively treating a range of musculoskeletal conditions. Get back to your active lifestyle faster with us.
Pelvic Floor Physiotherapy
Regain control and improve your quality of life with Pelvic Floor Physiotherapy. We provide specialized treatments for pelvic health issues in a safe and supportive environment. It's time to take control of your pelvic health and live without discomfort.
Custom Orthotics
Step into comfort with our Custom Orthotics service. We provide personalized foot care solutions designed to alleviate pain, correct foot imbalances, and enhance your mobility. Walk your way to a healthier life with our custom orthotics.
Looking for Local
Physiotherapist
in Hamilton?
Finding the right physiotherapy clinic in Hamilton Mountain, Ontario, can be tough. If your online searches have led you to typing "Physiotherapy near me", look no further - you've arrived at your destination!
No matter your problem, big or small, our trained physiotherapists are ready to help. We're proud of our work and we aim to give you the best care possible.
At Gage Physiotherapy and Foot Clinic, we focus on patient care from start to finish - from your first check-up to the final bill. We believe every patient is important, and we make you feel welcome as soon as you walk through our doors!
---
Look below to find your area of concern - and click where it hurts
FAQs About Our Physiotherapy Services in Hamilton Mountain
Physiotherapy is frequently thought of as a rehabilitation and recovery treatment for chronic pain or severe injuries. But physiotherapy relieves pain and restores freedom of functional movement to all sorts of patients with a wide variety of conditions. Through techniques such as connective tissue manipulation, joint mobilization, massage therapy and manual therapies, physiotherapy encompasses a wide range of services that improve patient's quality of life, whether they're recovering from a recent injury or suffering from a chronic condition.
Best of all, physiotherapy is a proven, non-invasive treatment that doesn't involve new prescription medications or surgery of any kind. It's a natural means of helping the body heal itself.
Most of our patients feel these benefits after their very first appointment. And massage therapists can have a positive impact on your mental and emotional issues as well.
If you're suffering from chronic pain, have stiffness or have lost the active range of motion in your joints, if you have sore muscles from overuse or injury, a physiotherapy clinic can (almost) always help. Physiotherapy services have even been known to eliminate headaches caused by tight muscles or strained ligaments in your neck or upper back, lower blood pressure and infuse a sense of wellness and vitality into your daily activities. Physiotherapy treatment can also help with:
Sports injury recovery

Hip pain

Rotator cuff injuries

Complex injuries

Back-related issues
With all the health problems stress can cause, it's no wonder more and more people are turning to qualified physiotherapy for advice on pain management and stress reduction; it's a natural, complementary approach to achieving optimum health. Here are just a few of the ways that physiotherapy with Gage Physiotherapy & Foot Clinic can transform your health outcomes:
1. Physiotherapy increases blood circulation, which lowers your blood pressure. This in turn can mean headaches lessen or disappear and you have better heart and circulation health.

2. Physiotherapy triggers your body's relaxation reflex, which signals your muscles to release their tension. This relaxation can contribute to headache relief, muscle and joint pain relief and a lowering of stress's impact on the body and mind.

3. Physiotherapy calms the body's reaction to stress, which can lower your heart rate, stimulate more relaxed breathing and promotes the flushing of stress hormones and muscle toxins.

4. Physiotherapy is a natural, hands-on treatment that's safe, effective and doesn't require more medications to remove your mobility barriers.
Physiotherapy is the key to future injury prevention. Be it workplace injuries or motor vehicle injuries, our physiotherapy experience has got you covered!
Clinical Location
in Hamilton
We understand the transformative power of a pain-free life. That's why it's crucial to find a Hamilton Physiotherapist you can trust!
Choosing Gage Physiotherapy and Foot Clinic means placing your wellbeing in capable and caring hands. Your health is our daily mission. Reach out to us and schedule your appointment today!
Health Tips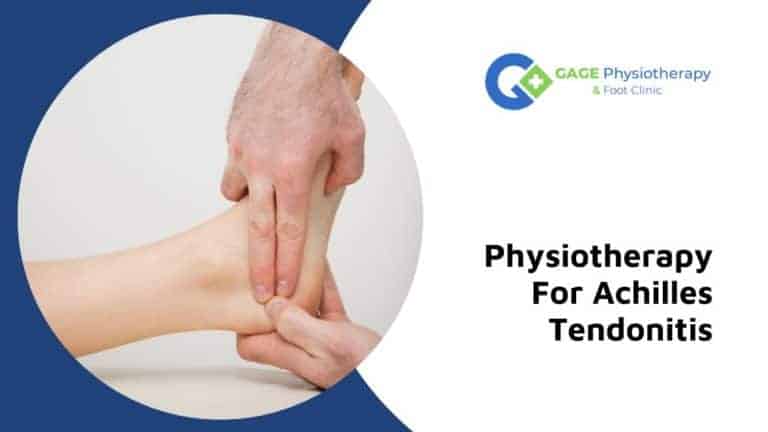 Physiotherapy and Achilles Tendonitis: A Comprehensive Guide
Achilles tendonitis is an agonizing condition that impacts the Achilles tendon, which attaches the upper thigh muscle to the heel. It's brought on by excessive physical activity or Read more
Insurance Covered. Extended Health Coverage. Direct Billing Available.
Monday: 8:30AM – 6:00PM

Tuesday: 8:30AM – 4:30PM

Wednesday: 8:30AM – 6:00PM

Thursday: 8:30AM – 4:30PM

Friday: 8:30AM – 2:00PM

Saturday: Closed

Sunday: Closed